Cinnamon Apple Pancakes are a decadent weekend breakfast!  The cinnamon apples and sweet whipped topping make these vegan pancakes irresistible!  Everyone will be asking for more!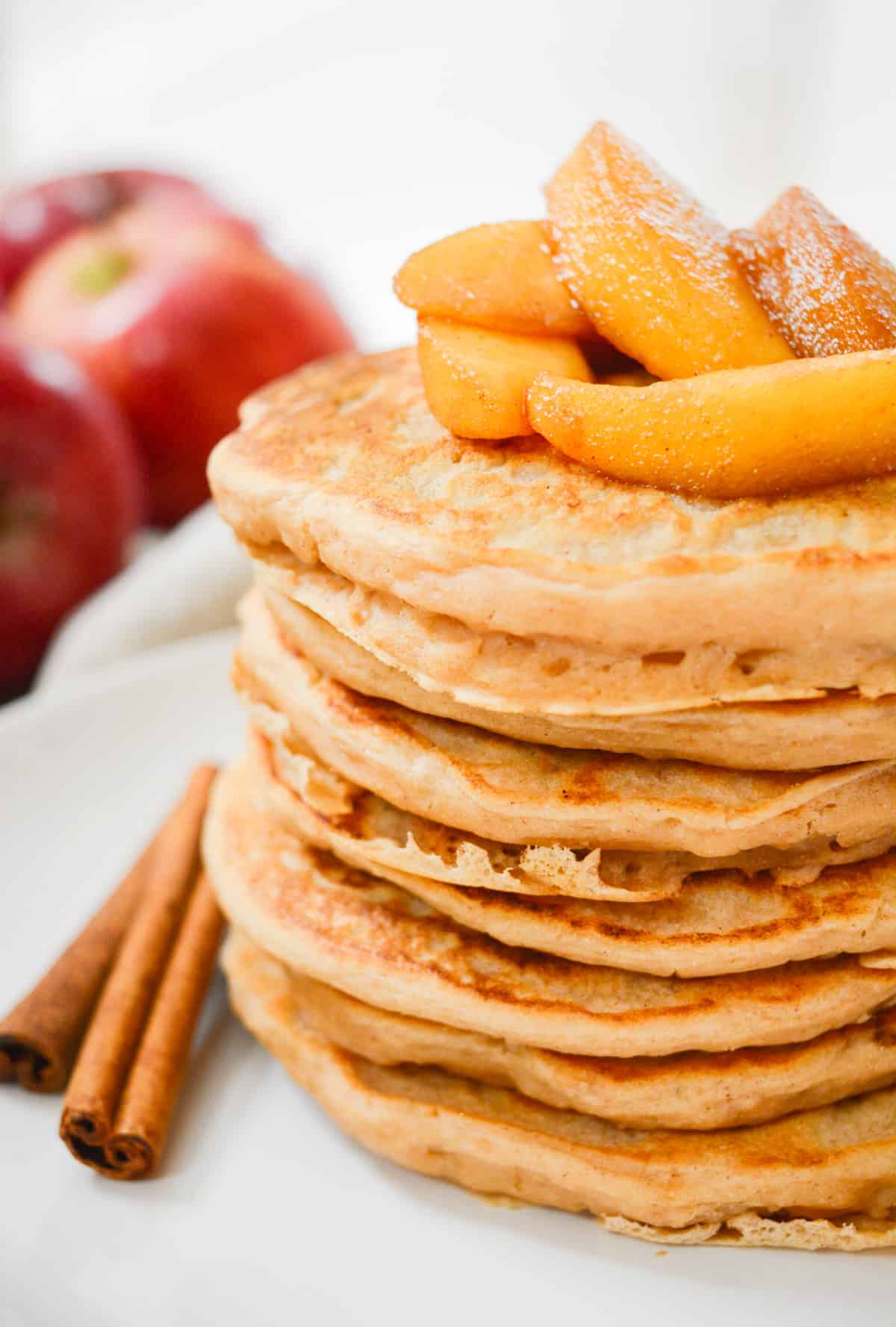 Breakfast is a meal that can satisfy sweet or salty morning cravings.  
For a quick, grab-n-go breakfast, a slice of sweet vegan banana bread never disappoints.  
But, sometimes a few pieces of savory hummus and avocado toast hits the spot!
And on the weekend a 3-course breakfast is in order.  
I'm talking about these apple cinnamon pancakes, tofu scramble, and breakfast potatoes.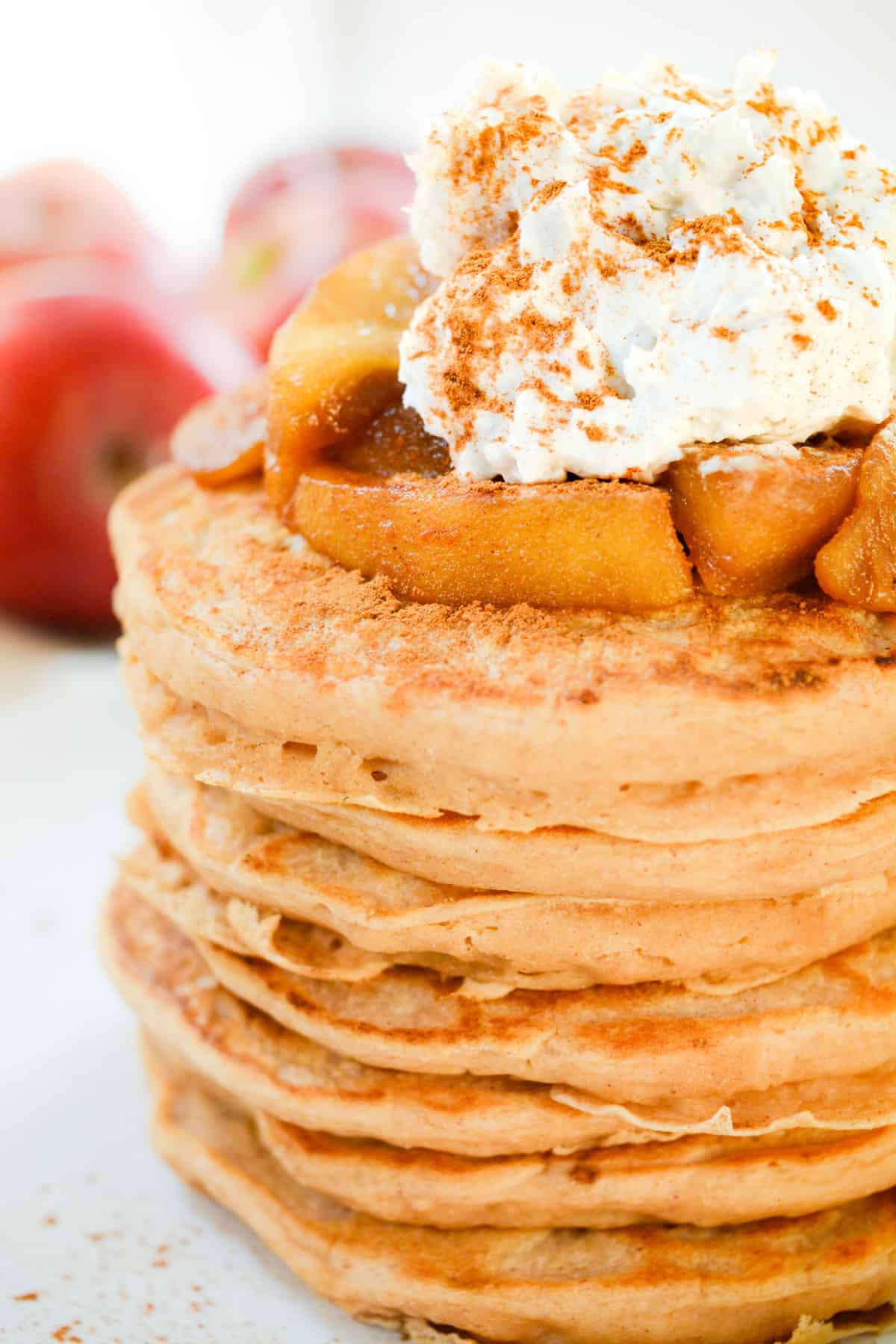 Making Cinnamon Apple Pancakes are easy
It only takes 1 bowl and about 5 minutes to whip up the batter.
Start by adding the dry ingredients to a large mixing bowl.  
Then grate the apple.
Add the grated apple and remaining wet ingredients to the bowl.
Whisk until the wet ingredients and dry ingredients are just combined without overmixing. (lumps in the batter are fine)
Heat a pan over medium heat. Once hot, pour about ¼ cup of batter onto your pan.  Flip the pancakes when the tops begin to bubble and pop and the sides begin to appear cooked.
Serving Suggestions
The pancake batter is filled with grated apples giving these pancakes a natural sweetness and apple-y taste!
Top the stack of apple pancakes with cooked cinnamon apples, sweet coconut whip, and drizzle maple syrup over it all!  The decadent toppings make these an ultimate pancake experience the whole family will be raving about!
However, you can always go classic by leaving off the extra toppings and keep it simple by covering the pancakes in maple syrup.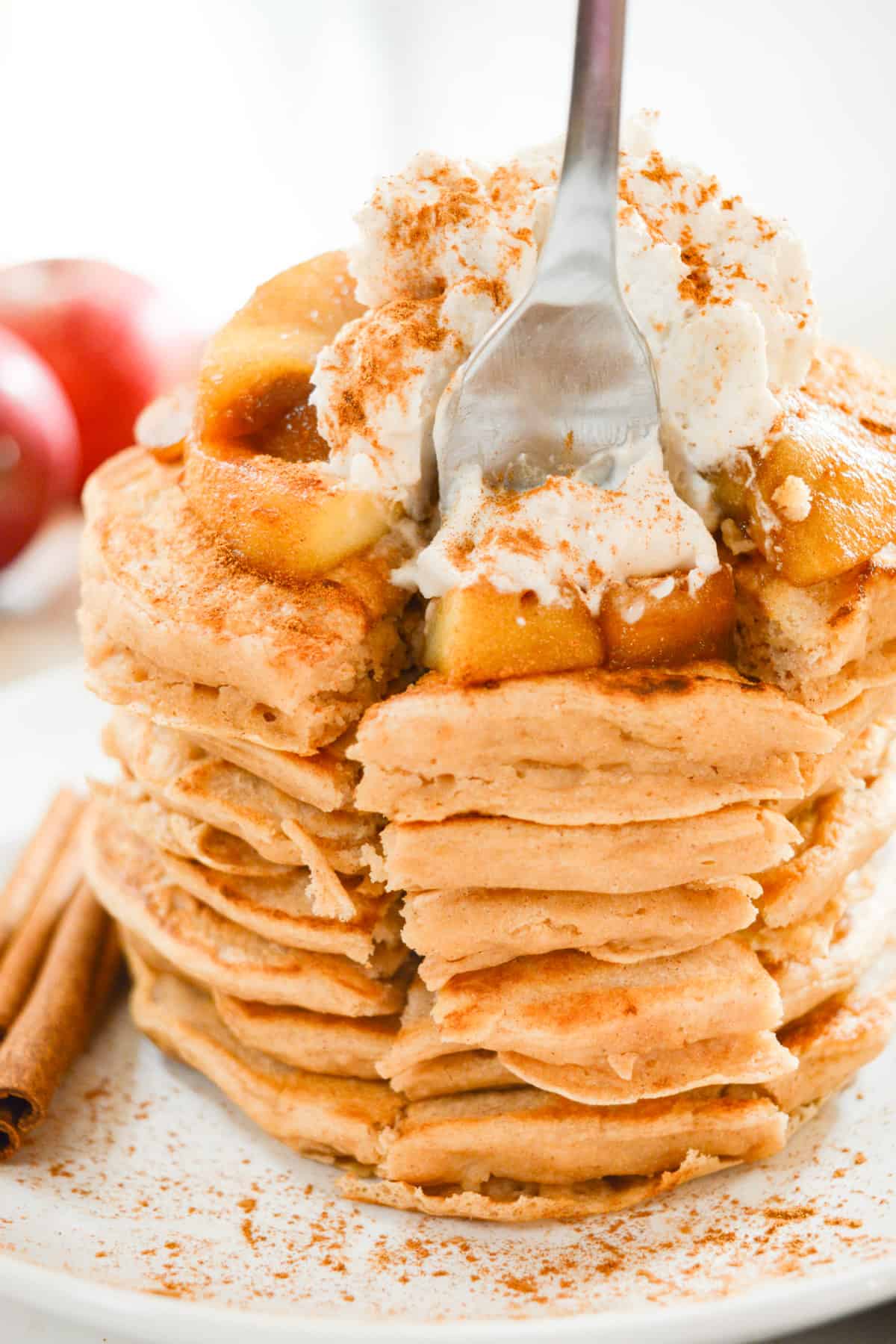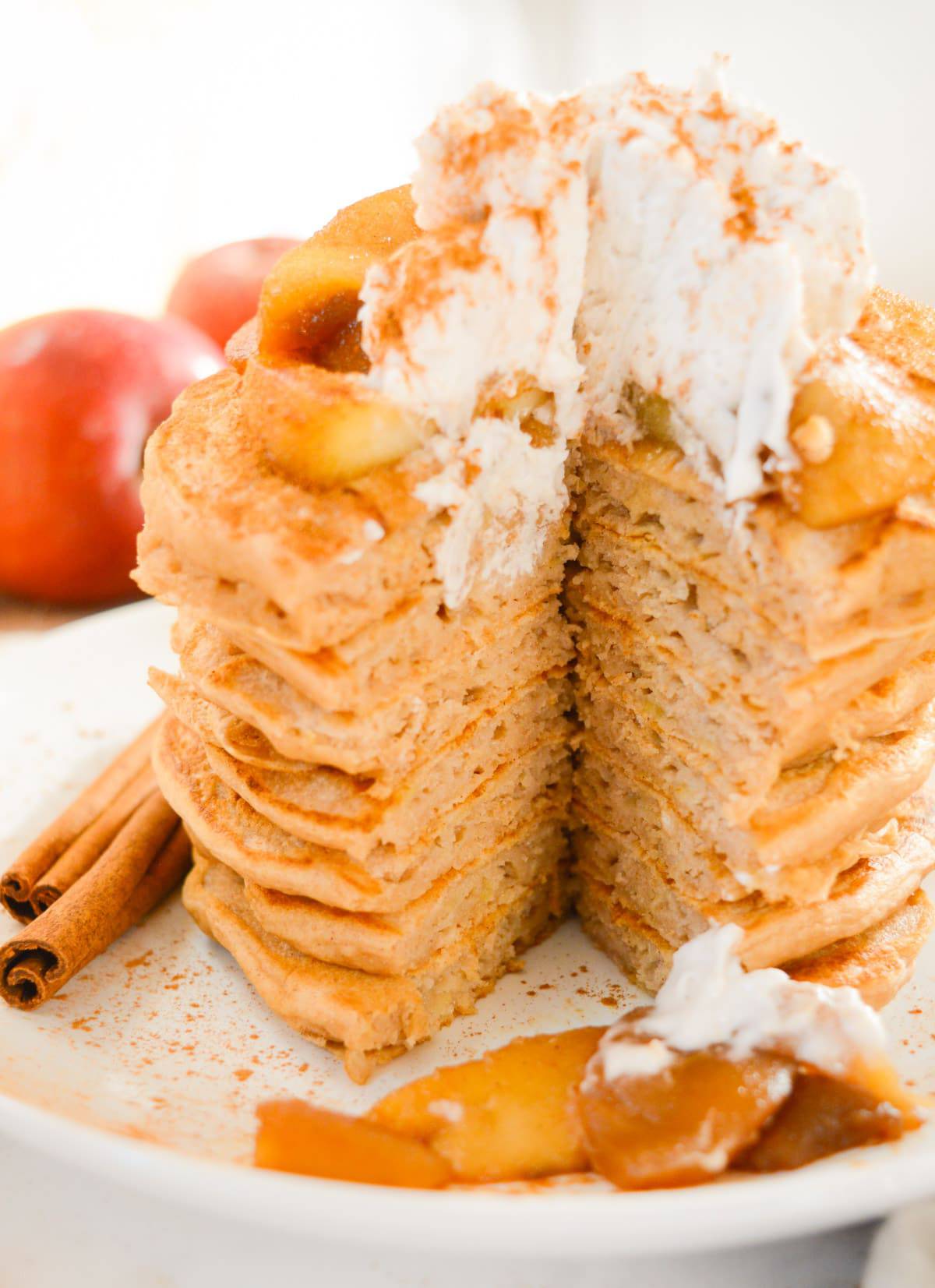 The Cinnamon Apple topping and coconut whip are just as easy to make
I like to serve the pancakes fresh so I always prepare the toppings first and store it in the refrigerator.  
To cook the apples: Add the apple topping ingredients to a saucepan and heat until the apples have softened.  This takes about 10 minutes or so.  
While the apples cook, make the coconut whip:  Add the coconut whip ingredients to a large bowl.  With a hand mixer, whip until the coconut cream is stiff yet fluffy.  Store the coconut whip in the refrigerator until the pancakes are ready to be topped. Or, for an even easier option use your favorite storebought vegan coconut whip.
If you like extra cinnamon apples and whipped topping simply double the recipes!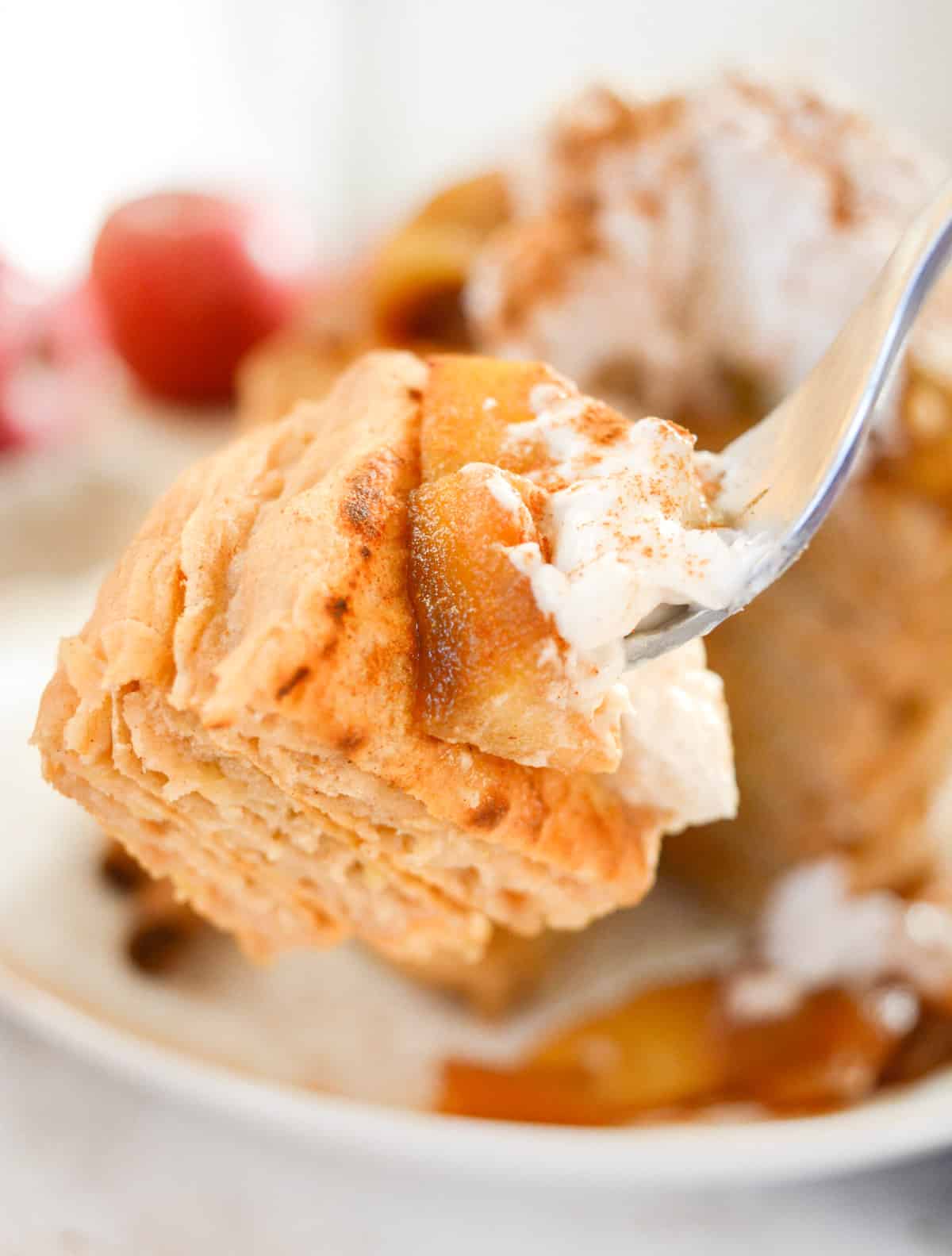 We'd love to hear from you!
If you enjoyed this vegan recipe, please leave a 5-star rating in the recipe card and share your thoughts in the comments below.
Also, if you snap a photo be sure to share it with us! We love to see your creations!! You can find us on Pinterest, Facebook, and Instagram.
Or, get the links to new recipes delivered straight to your inbox by signing up for our newsletter. See ya there!
Recipe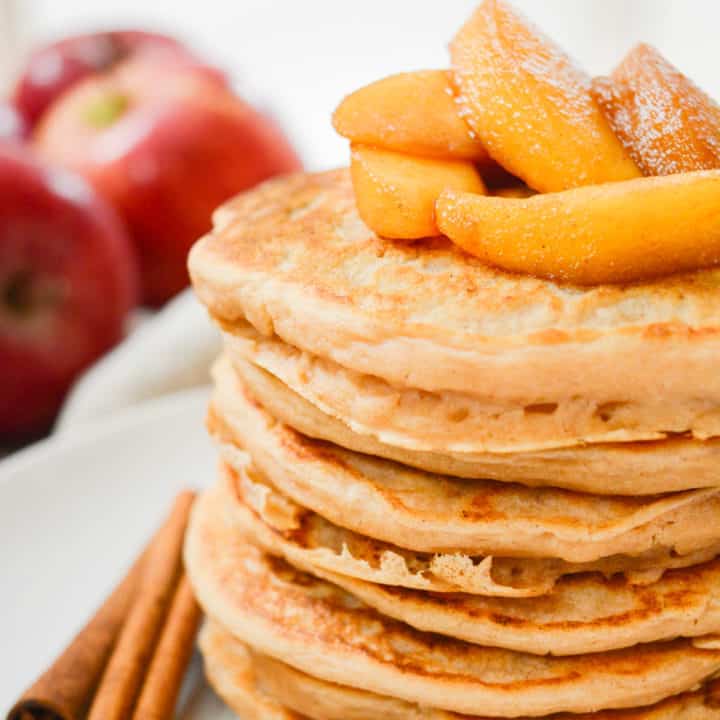 Vegan Cinnamon Apple Pancakes
Vegan Apple Cinnamon Pancakes are topped with cooked cinnamon apples & sweet coconut whip. It's like having dessert for breakfast!
Ingredients
Dry
2 cups all-purpose flour, sifted
2 Tablespoons coconut sugar, or granulated sugar of choice
1 teaspoon ground cinnamon
¼ teaspoon nutmeg
¼ teaspoon Himalayan pink salt
1 Tablespoon baking powder
Wet
2 cups non-dairy milk
1 teaspoon pure vanilla extract
1 Tablespoon coconut oil, melted
1 gala or fuji apple, grated, peeling is optional
Apple Topping
1 Tablespoons water
2 Tablespoons coconut sugar
3 firm gala or fuji apples, sliced
1 teaspoon lemon juice
cinnamon and nutmeg, to taste
Coconut Whip
1 can coconut milk, cream only*
2-3 Tablespoons powdered sugar
½ teaspoon pure vanilla extract
Instructions
Apple Topping
Place all the ingredients in a small saucepan. Heat over medium-low until the apples have softened.
Cover to keep warm until ready to use.
Coconut Whip
Place a can of full-fat coconut milk in the back of the fridge overnight.
Carefully open the can and collect the cream on top.
Place all of the ingredients in a large bowl. Using a hand mixer, whip the ingredients until the coconut cream becomes smooth. Taste and adjust sweetness if needed.
Keep chilled until ready to use.
Tip: I've noticed canned coconut milk doesn't whip up like it used to. A better alternative is to use a store-bought coconut whip.
Pancakes
I suggest making the toppings first. (Directions are below)
Heat a pan or large griddle over medium-high heat.
In a large bowl sift the flour. Add in the remaining dry ingredients.
Pour the wet ingredients into the bowl of dry. Gently whisk until the batter is just combined. Don't over-mix, lumps are OK!
Brush a bit of oil on the pan and pour about ¼ cup of batter down.
Flip the pancake once the edges appear slightly cooked and small bubbles form on top. Cook on the other side until lightly browned.
Serve immediately or keep warm in a 150ºF preheated oven.
To Serve
Stack desired amount of pancakes on a plate and top with the cooked apples.
Add a generous dollop of coconut whip to the top of the apples.
Drizzled with maple syrup as desired.
Enjoy!
Notes
To Freeze the Pancakes- place parchment paper between each pancake. Store in an air-tight container or bag. Keeps for about 2-3 months.
For the coconut milk- Carefully open the can of coconut milk and scoop out the cream on top. Discard the liquid or use it in a smoothie.
Nutrition Information:
Yield:

5
Serving Size:

3 pancakes
Amount Per Serving:
Calories:

590
Total Fat:

22g
Saturated Fat:

18g
Unsaturated Fat:

2g
Sodium:

354mg
Carbohydrates:

90g
Fiber:

7g
Sugar:

40g
Protein:

11g
**Nutritional info is provided as an estimate based on the ingredients I used and for convenience and as a courtesy only.**