Soft and chewy vegan pumpkin oatmeal cookies are a great way to use up leftover pumpkin puree. The added cinnamon and pumpkin spice make these cookies the perfect fall-flavored treat. Add chocolate chips, dried fruit, or your favorite chopped nuts. This one-bowl vegan oatmeal cookie recipe is easy-to-make and excellent for snack time, bake sales, and family dessert!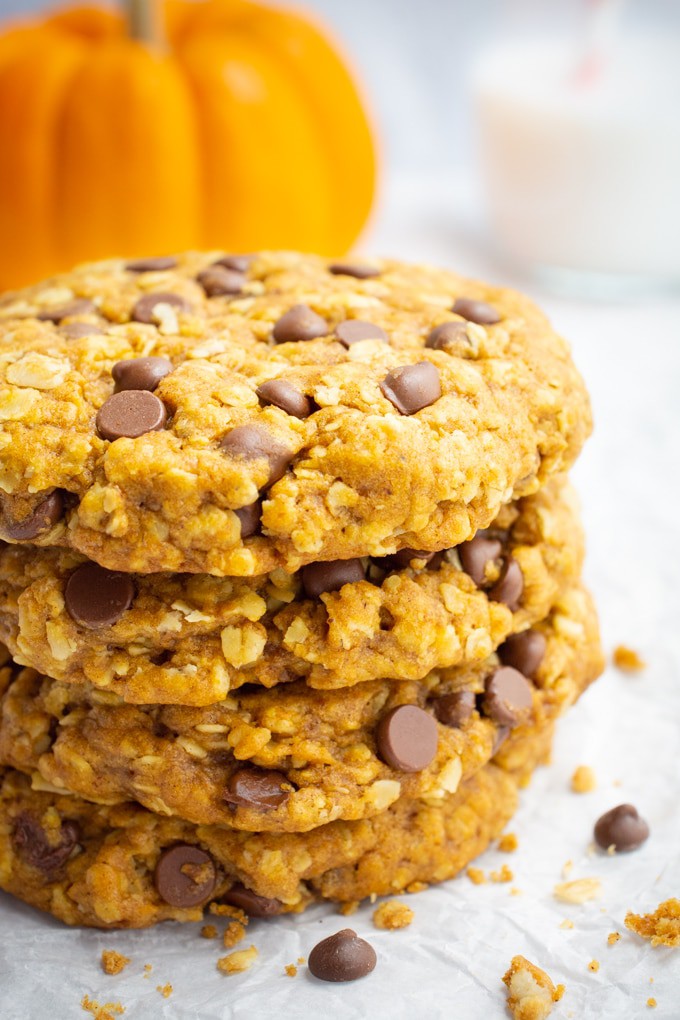 Last year I made my vegan pumpkin banana bread as a family fall treat.
This year I wanted to switch it up and create a pumpkin cookie recipe. So I came up with these vegan pumpkin oatmeal cookies with chocolate chips.
They're soft on the inside with a pleasantly crisp edge.
Definitely this year's fall favorite sweet!
How to make vegan pumpkin oatmeal cookies
Vegan cookies are usually easy-to-make and this recipe is no exception. It's a one-bowl, one utensil kinda cookie recipe.
So, let's get started on making these fall-inspired pumpkin cookies!
Start by adding all the dry ingredients to a large mixing bowl.
Mix everything together.
Tip: Be sure to use the "spoon and level" method when measuring out the flour. However, the coconut sugar can be packed OR loosely added to the measuring cup depending on your preferred level of sweetness.
Now, add the oil and pumpkin purée to the bowl.
Mix everything together until the cookie dough ingredients are well combined with no dry flour.
Tip: This step is best done with a sturdy utensil. I like to use a stiff rubber spatula, but a wooden spoon works great as well.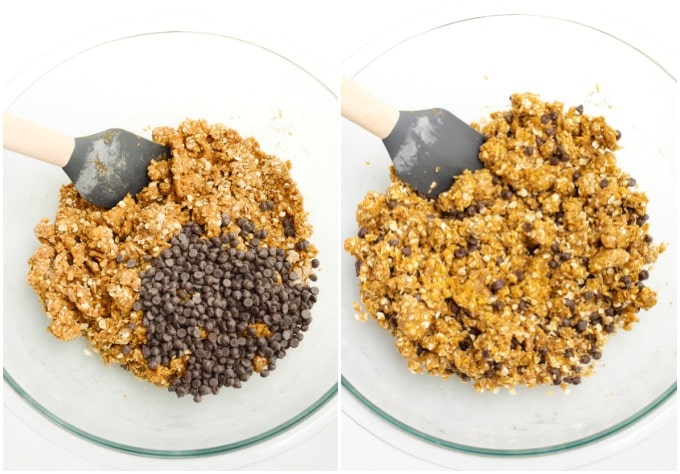 Add the chocolate chips, or your preferred mix-in, to the bowl.
Fold them into the dough until everything is well blended.
At this point, the cookie dough can be formed and baked right away, or chilled for 25 minutes for easier handling.
I'm impatient and normally move right into shaping and baking the pumpkin cookies. I find using a pair of food-grade disposable gloves makes the process less messy!
To form the cookies, gather 2 level Tablespoons of dough and stick the flat bottoms together, as pictured above.
Place the dough on a parchment-lined baking sheet and use your palm to gently flatten the dough. Then, use your fingers to round out and shape the edge of the cookies.
For cookies with a chewy center and crispy edge, bake at 375ºF for 12 minutes. For an extra chewy center and less crispy edge, lower the bake time to 10 minutes.
Tip: You can always make smaller cookies using a cookie scoop or a single Tablespoon, but the cooking time may need to be adjusted accordingly.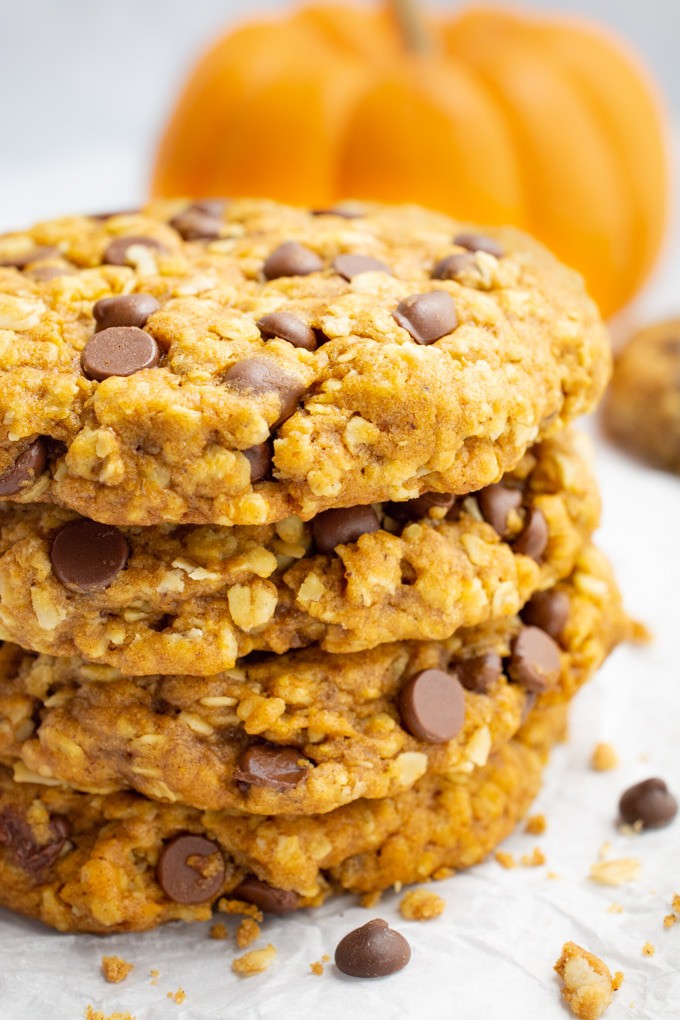 What kind of oats do I use?
My favorite oats to use in oatmeal cookies are instant oats. They bake up soft and tender and they're less noticeable in the cookies than rolled oats.
If you only have rolled oats or prefer rolled variety, simply replace the instant oats with an equal amount of rolled.
Fresh or canned pumpkin puree?
These pumpkin oatmeal cookies can be made with canned or fresh pumpkin puree, as long as the puree is thick with minimal moisture. Too much extra moisture will cause the pumpkin oatmeal cookies to become sticky rather than chewy, and we don't want that!
I went with a canned organic pumpkin puree from my local Sprouts Market. It was pretty thick to begin with so I used it 'as is' with great cookie-texture results.
You can make your own pumpkin puree, but that's a whole other blog post. If you ARE interested in making your own, this how-to-make pumpkin purée video is super helpful.
What to do if your puree is thin
If your pumpkin puree is thin, runny, or has liquid on top when you open the can, you'll want to remove most of the excess moisture.
You can do this by gathering the pumpkin puree in cheesecloth and gently squeezing out the moisture. Or place it on a few paper towels and pat out the excess moisture.
Spruce up these pumpkin oatmeal cookies with a mix-in
I added chocolate chips because I know it means my daughter will devour them. Anything with chocolate chips and she's in!
However, you can leave the cookies plain, top them with vanilla icing, or add one of the below mix-ins.
chocolate chips
dried cranberries
raisins
chopped pecans
chopped walnuts
macadamia nuts
pumpkin seeds
sunflower seeds
chocolate chunks
coconut shreds
hemp hearts
Bakers Tips
The turbinado sugar can be replaced with cane sugar or any granulated sugar. However, I do suggest powdering it for the best texture, although it is not completely necessary.
The cookies don't spread very much while baking. They'll need to be flattened with your palm or the bottom of a glass before transferring them to the oven.
Bake the cookies on the top rack to prevent them from over-browning on the bottoms. Unless you like browned bottom cookies, then feel free to bake them on the lower rack.
If the cookie dough seems oily and unmanageable, chill it in the refrigerator for 20-30 minutes before handling.
For extra soft, super chewy cookies, bake them for only 10 minutes.
We'd love to hear from you!
If you enjoyed this vegan recipe, please leave a 5-star rating in the recipe card and share your thoughts in the comments below.
Also, if you snap a photo be sure to share it with us! We love to see your creations!! You can find us on Pinterest, Facebook, and Instagram.
Or, get the links to new recipes delivered straight to your inbox by signing up for our newsletter. See ya there!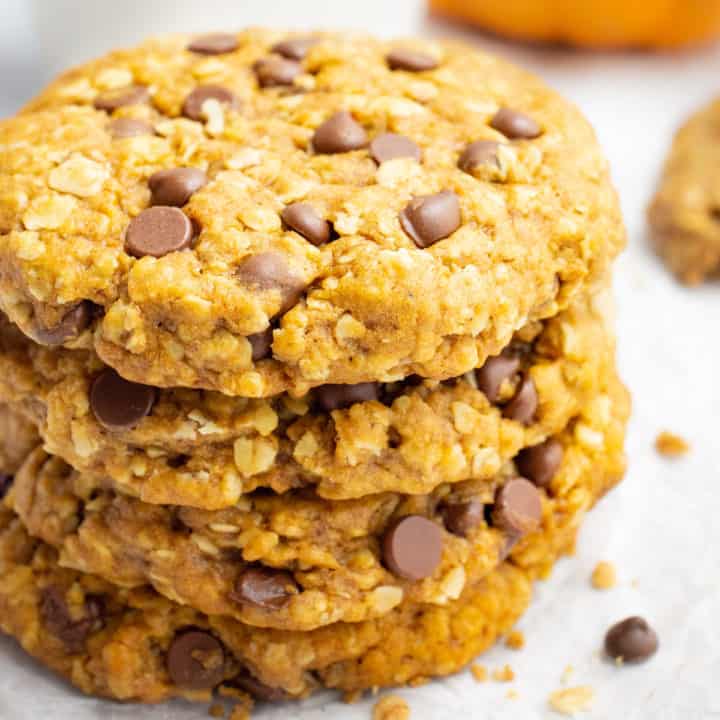 Vegan Pumpkin Oatmeal Cookies
Soft and chewy vegan pumpkin oatmeal cookies are a great way to use up leftover pumpkin puree. Add chocolate chips, dried fruit or your favorite chopped nuts.  This one-bowl vegan oatmeal cookie recipe is easy-to-make and excellent for snack time, bake sales, and family dessert!
Instructions
Preheat your oven to 375ºF and line a baking sheet with parchment paper.
In a large bowl mix together all the dry ingredients (except the chocolate chips).
Add the oil and pumpkin puree to the bowl.
Mix just until the cookie dough comes together.
Fold in the chocolate chips or other mix-ins.
Measure out 2 Tablespoons of dough (or use a cookie scoop to collect the dough). Stick the flat sides together, then place the dough ball on the prepared baking sheet. Flatten and slightly shape the cookies to keep their roundness.
Bake at 375ºF for 12 minutes.
Remove the pumpkin oatmeal cookies from the oven and allow them to cool for 5 minutes before transferring them to a cooling rack.
Store in an airtight bag or container for 3-4 days on the counter or up to a week in the fridge.
ENJOY!
Notes
Powdering the larger turbinado sugar crystals creates a smoother cookie texture. Use a coffee grinder, Nutri-bullet or equivalent to powder the sugar before measuring.
Nutrition Information:
Yield:

13 cookies
Serving Size:

1
Amount Per Serving:
Calories:

97
Total Fat:

3g
Saturated Fat:

2g
Trans Fat:

0g
Unsaturated Fat:

1g
Cholesterol:

0mg
Sodium:

63mg
Carbohydrates:

15g
Fiber:

1g
Sugar:

5g
Protein:

2g
**Nutritional info is provided as an estimate based on the ingredients I used and for convenience and as a courtesy only.**
More ways to use up canned pumpkin
Where You Get Your Protein is a participant in the Amazon Services LLC Associates Program, an affiliate advertising program designed to provide a means for sites to earn advertising fees by advertising and linking to Amazon.com. This site may contain some of these links to Amazon.com. If you make a purchase through one of those links, Where You Get Your Protein will receive a small commission from the purchase at no additional cost to you.