Instant Pot rice pilaf is a tasty side dish to any dinner! Serve this versatile rice as-is, or spruce it up with any vegetables you have on hand. This easy vegan recipe also includes stovetop instructions!
In the past, I used a rice cooker to make my Spanish rice recipe. But, when I purchased an Instant Pot the rice cooker was shoved to the back of the cupboard. Now all my rice is pressure cooked!
Rice pilaf is one of my favorite Instant Pot rice recipes. The fact that I was able to toast the orzo in the cooking pot was amazing! That was impossible with my rice cooker making pilaf a rare side dish.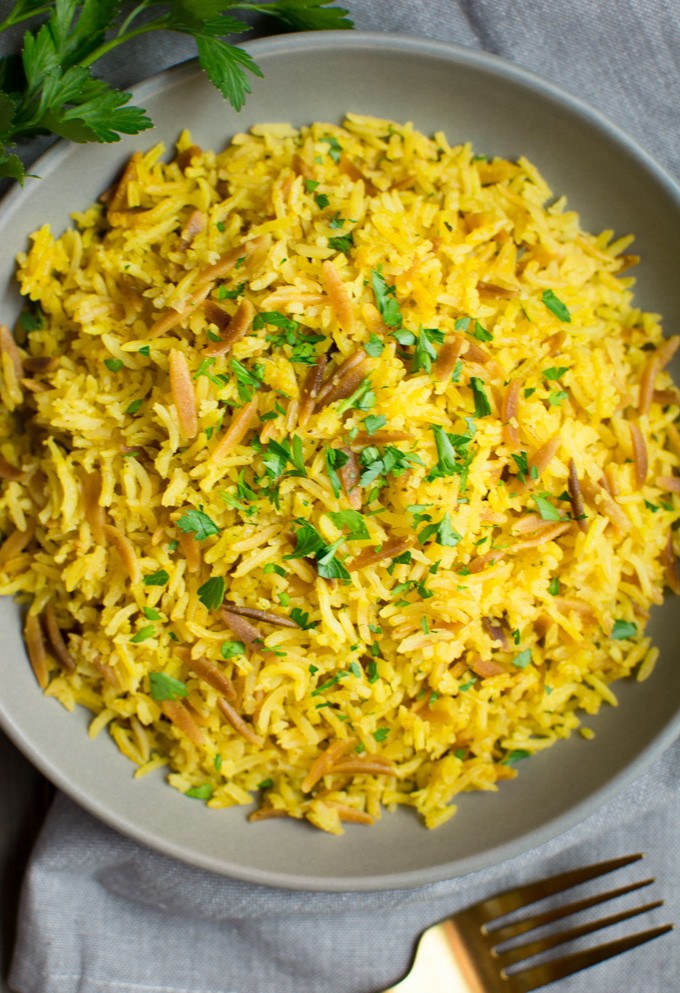 What makes rice pilaf a "PILAF"?
I used to think rice pilaf got its name from the addition of, what I assumed was "big puffy rice" pieces. I had no idea what the actual definition of "pilaf" was.
In case you're curious as well ––pilaf means rice cooked in a broth with seasonings. It really has nothing to do with those big puffy pieces.
Those puffy pieces are actually called orzo.
So what is orzo?
Orzo is rice-shaped pasta. Yes! It's a PASTA! And it can be found in the pasta section of your local food market.
Orzo isn't required in rice pilaf, but it does add an appealing "toasted rice" look to the dish.
How do I make this rice pilaf gluten free?
Gluten free orzo is available online. It can also be found at some local health food stores. Otherwise, this easy side dish can be kept gluten free by replacing the orzo with an equal amount of rice.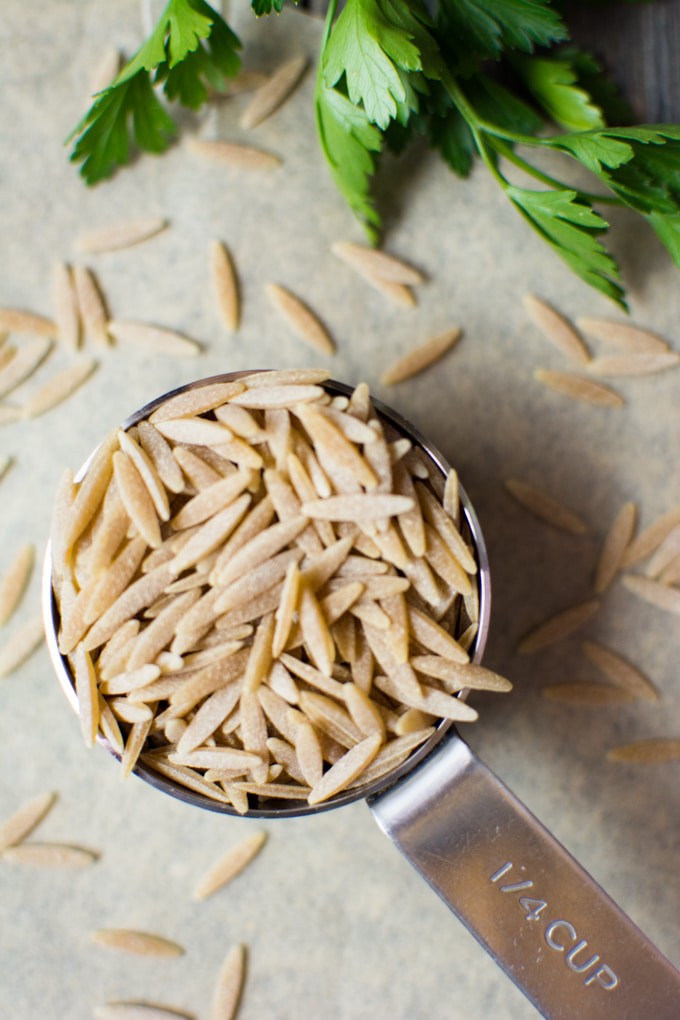 What is the best rice to use?
I've found rice pilaf is best with a long grain white rice. I prefer basmati, but jasmine is also a good choice. And if you're feeling extra fancy, replace ¼ cup of the white rice with wild rice.
to toast or not to toast?
I say toast!
…The rice and orzo that is.
If you want to achieve what I consider a "classic rice pilaf look", then toasting the rice and orzo before pressure cooking them is a must.
how to toast the rice and orzo
Sauté the white rice and orzo pasta in your Instant Pot using the sauté feature. With frequent stirring, it should only take 7-10 minute for everything to brown.
Thats it! The rice and orzo are toasted. Toss in the reming ingredients and pressure cook everything for 8 minutes.
Why is this the best instant pot rice pilaf?
Well grab a seat and let me tell you.
It's...
made in the

Instant Pot

, and we love IP recipes.
seasoned with spices you have on hand keeping the recipe simple.
colored with

turmeric

adding

health benefits.

a delicious side to complete any meal.
easy to turn into a meal by simply mixing in veggies and a protein.
Add some variety to your pilaf
This recipe is fuss-free when it comes to add-ins. Try mixing one of the below suggestions into the cooked rice. Or feel free to use any leftover veggies you may have on hand.
peas
sautéed onions
sautéed mushrooms
Toasted almond slivers
Chopped kale
For an easy and delicious weeknight dinner, serve this Instant-Pot rice pilaf alongside my lemon pineapple tofu, a baked potato, and steamed vegetables.
• • •
We'd love to hear from you!
If you make this recipe, star rate it in the recipe card and tell us what you think in the comments below. Also, if you snap a photo be sure to share it with us! We love to see your creations! You can find us on Pinterest, Facebook, and Instagram.
Recipe
Instant-Pot Rice Pilaf (stovetop instructions included)
Complete tonight's dinner with this Instant-Pot Rice Pilaf. Serve as-is, or spruce it up with any vegetables you've been needing to use up. Includes stovetop instructions below.
Ingredients
1 and ¼ cup long grain white rice such as basmati or jasmine**
¼ cup orzo
1-2 Tablespoons neutral oil for sautéing
2 cups low sodium vegetable broth
1 cup water
2 teaspoon onion powder
¾ teaspoon garlic powder
¾ teaspoon pink salt, use ¼-1/2 teaspoon if you're not using low sodium broth
½ teaspoon dried parsley, or 1 Tablespoons fresh chopped
⅓ teaspoon turmeric powder
¼ teaspoon paprika
pepper to taste
Instructions
Instant-Pot Instructions
Add the oil, rice and orzo to the IP. Sauté until the rice and orzo begin to brown, about 8 minutes.
Once browned press cancel on your IP and mix in the remaining ingredients.
Set the IP to pressure cook for 8 minutes on high pressure. Then allow for natural pressure release.
Carefully open the lid and mix/fluff the rice.
Serve immediately.
ENJOY!
Stovetop Instructions
Add the oil, rice and orzo to a large lidded pot. Sauté over medium heat until the rice and orzo begin to brown, about 8 minutes.
Once browned turn the heat down and mix in the remaining ingredients.
Increase the heat and bring to a boil. Then lower the heat, cover and allow the rice to a simmer for 10-15 minutes or until it's fully cooked.
Carefully remove the lid and mix/fluff the rice.
Serve immediately.
ENJOY!
Notes
*For stovetop, you may need to increase the liquid by ¼-1/2 cup since it will steam off during the cooking process.
**White rice can be replaced with brown rice. However, you will need to increase the Instant-Pot cook time to 22 minutes.
Nutrition Information:
Yield:

8 servings
Serving Size:

1 serving
Amount Per Serving:
Calories:

79
Total Fat:

4g
Saturated Fat:

0g
Trans Fat:

0g
Unsaturated Fat:

3g
Cholesterol:

0mg
Sodium:

14mg
Carbohydrates:

10g
Fiber:

1g
Sugar:

1g
Protein:

1g
**Nutritional info is provided as an estimate based on the ingredients I used and for convenience and as a courtesy only.**