31 holiday-favorite cookie & truffle recipes. Some healthy. Some a bit more decadent. But, they're all sure to please!  Fill up those festive tins, gift boxes, and cookie platters with a variety of vegan holiday cookies and truffles!  Plenty of gluten-free and allergy-friendly options included!
It's baking season!  And you know what that means…
COOKIES!!
I'm a bit obsessed with cookies... year-round!  But this time of year the holiday flavors, shapes, and aromas come out.  And it's hard to keep out of the kitchen!
There are so many vegan holiday cookies to bake!  From gingerbread to sugar cookies.  This time of year the cookie options are abundant!
Since indulging in holiday cookies is unavoidable, I've gathered up 31-holiday favorite cookie & truffle recipes to make things easier.   Now you don't have to scour the internet for those homemade treats, leaving more time to bake... cookies of course.
And stuff your face with said cookies!  
---
Vegan Holiday Cookies
These vegan holiday cookies are topped with homemade kiss shaped chocolate!   YUM!
These soft & tender cookies are flavored with fresh squeezed lemon juice and they're refined-sugar-free!
These melt-in-your-mouth cookies also double as Christmas tree decorations!  How cool is that!?
Bring these crisp on the outside, chewy on the inside cookies to your next cookie exchange!
These vegan sugar cookies are soft, chewy and perfectly sweet!  They're also gluten-free and made without butter or oil!
These cookies are a guilt-free twist on a classic holiday pie!  Bring them to the holiday party and watch them disappear!
These healthy treats are perfect for holiday gift giving!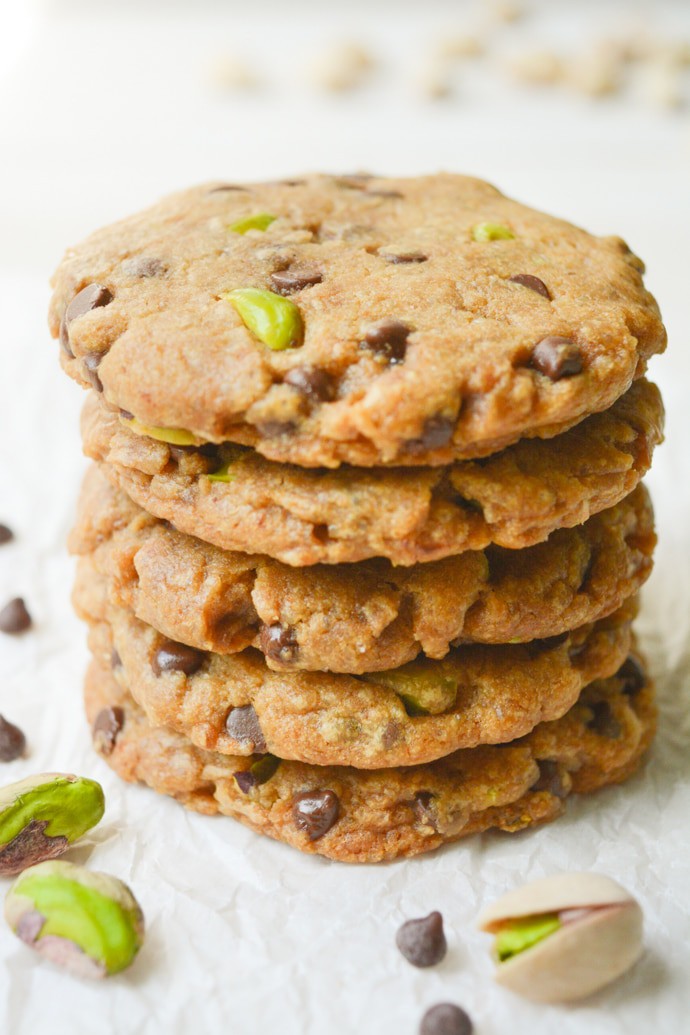 These cookies are loaded with salty pistachios and semi-sweet chocolate chips making them the perfect sweet/salty combo!
Bake up a batch of these cookies and you're sure to stay off on the 'naughty list'!
Vegan Snowball Cookies - Where You Get Your Protein
Shortbread style cookies are filled with chopped pecans then dusted with powdered sugar.
These meringues are only 3 ingredients and super easy to make!
These Christmas cookies are perfectly sweetened and spiced for a classic gingerbread taste!
These cookies can only be described as a decadent brownie, crammed into a cookie then loaded with chocolate chips!
These flavorful, chewy, mind-blowing cookies are sure to leave you wanting more!
Sweet and moist crinkle cookies with matcha, lemon zest and pistachios!
Fill those holiday cookie tins with these delicious, melt-in-your-mouth, jam-filled cookies!
A traditional Christmas cookie that's perfectly flavored!  They're also gluten-free for an allergy-friendly treat!
These buttery shortbread cookies are topped with a flavorful apricot jam for holiday-treat perfection!
These cookies are bursting with fresh peanut butter flavor.  They're a classic addition to those cookie tins!
These cookies are filled with a rich aroma of almonds, orange, cinnamon and vanilla!
Using both peppermint extract and crushed candies, these cookies have an amazing peppermint-y flavor with a nice little crunch!
What's a holiday tin without sugar cookies?  Use Christmas cutouts for the perfect holiday cookie!
These chia spice-filled cookies take only one bowl and 30 minutes!  They're the perfect holiday treat!
---
Vegan Holiday Truffles
A holiday treat that takes just minutes to make… and will disappear even faster!
These raw cashew balls are naturally sweetened for a healthier holiday treat!
You don't have to like the holidays to LOVE these truffles! They're loaded with an irresistible candy cane crunch!
These truffles are made with 3 main ingredients and NO added sugar!  Talk about a healthy holiday treat!
Date sweetened truffles are a healthier, raw option so you won't feel guilty indulging!
Ring in the holidays with these rich, smooth and chocolatey truffles!
These super-easy-to-make rum balls include a non-alcoholic version as well!